Celebrate National Yoga Month With a Free 30-Day Membership
Celebrate National Yoga Month With a Free 30-Day Membership
Limited Time Offer! Get 25% Off On Monthly Or Annually Membership
Limited Time Offer! Get 25% Off On Monthly Or Annually Membership
Start Your Free Trial With Alo Moves
Start Your Free Trial With Alo Moves
Join Alo Moves With $15 For Your First Month
Join Alo Moves With $15 For Your First Month
Find The Yoga Class That's Right For You
Find The Yoga Class That's Right For You
SERIES! Find A More Program To Achieve Your Goals
SERIES! Find A More Program To Achieve Your Goals
ONLINE VIDEO FITNESS AND MEDITATION CLASSES WITH ALO MOVES SUBSCRIPTION SERVICE
Alo Moves is a yoga subscription service that connects users with fitness experts to guide them through a variety of classes and courses, from yoga and fitness to mindfulness and skill training.
Founded by Danny Harris and Marco Degeorge in 2007 as a yoga-related clothing line, Alo Moves has since expanded its business to include online video fitness and meditation classes. Available through both the brand website and via app, Alo Moves' offerings include more than 2,500 classes taught by 60 instructors, ensuring that there is something for everyone.
Wide variety of Alo Moves yoga fitness programs, from beginner to expert level
Courses are included in the price of your monthly subscription, meaning no additional fees
Anywhere, any-time video format makes taking classes convenient
Series/course workouts are offered help to keep you on track
World-class instructors
Available on web or through app
14-day free trial available for new users
Subscribers can create playlists that bring variety to workout sessions
Alo Moves is an exclusively subscription-based service, meaning that their series and courses are not available for individual purchase. Subscriptions are available for $20 per month or $199 for a year; you can sign up on the brand website or through the Alo Moves app, which is available through the Apple App Store or Google Play.
Once you're registered, you'll have instant access to over 2,500 classes in four categories: Yoga, Fitness, Mindfulness and Skills. This Alo Moves Fitness review will now break down each category so that you can have a better idea of what to expect from them.
The Yoga Series from Alo Moves offers a wide variety of yoga fitness classes, from the most popular and accessible to the most unique and challenging. Classes range in length from 10 minutes to an hour. We've spotlighted some of the course offerings below, check out this list of some of their featured classes, and what they aim to do for you:
Yoga for Cross-Training with Calvin Corzine
This program features six classes aimed at both amateur and professional athletes. The exercises are designed to function in correlation with sport training, and you can choose classes that target specific areas, like conditioning or core work
Awakening Yoga: Solar Practice with Patrick Beach
Employing a special form of vinyasa yoga developed by instructor Patrick Beach, the six-class Alo Moves Awakening Yoga series is an intriguing fusion of traditional and modern yoga principles. Participants will develop their arm and core strength by progressing through a series of innovative movement sequences.
Yoga for Better Sleep with Naya Rappaport
Through stretches, meditation, and focused breathing, this series of six classes aims to soothe your body and calm your mind so that you can prepare yourself for a restful night of zen-fueled ZZZs.
Get funky while getting centred with this five-class series designed to energize and pump you up for the day ahead. Average class length is 45 minutes, and each is accompanied by original music courtesy of instructor and beat master MC YOGI.
Alo Moves also offers series devoted to the most popular types of yoga, including Ashtanga and Vinyasa.
Whether you're a rigorous exerciser or have just pulled yourself up off the couch, the Fitness Series has classes for every fitness level. Check out some of the highlights of this category below:
Yoga for Athletes with Calvin Corzine
Improve your recovery time and boost your performance with this 10-class series, which aims to reduce stiffness and naturally strengthen your body so that you can kill it on the track, in the gym, on a bike or in the pool.
HEAT stands for high-efficiency alternating training, and this series is designed to maximize your cardio and increase your explosiveness. The six classes are broken down into upper-body, lower-body, and full-body workouts, and can be taken individually or combined in one session; average length of one class is 20 minutes.
Yoga flow meets high-intensity interval training in the six-class Alo Moves Yoga HIIT series, which alternates between intense bodyweight exercises and brief recovery periods. This series is great for boosting your energy and bumping up your cardio.
Precision Barre Toning with Jacquelyn Umof
This series of 10 ballet-inspired workouts offer laser-focused 15-minute sessions that, taken together, will intensely work and tone your whole body. These brief but powerful routines are great for fitting into your regular exercise regimen, or if you're pressed for time but still want to fit in a workout session.
If this kind of thing is your jam, instructor Jacquelyn Umof also offers the popular Alo Moves Barre Blast course. There is also the Alo Moves Barre Burn course taught by Adrienne Rabena, who also helms the Alo Moves Booty Party class, which is available for free on the brand website.
Alo Moves also offers guided workouts in more conventional styles, like Core Sculpt, Sweat and Tone, and Low Impact Strength.
ALO MOVES MINDFULNESS SERIES
The Mindfulness Series is intended to promote relaxation and conscious awareness. We've spotlighted four of the offerings in this category below:
The Desire Map with Danielle LaPorte
We spend so much of our time striving to accomplish the things we think we want—but do we really want them? This nine-class series uses tools like journaling and list-making to take you on a journey of self-discovery that will reveal what is lacking in your life and devise new goals that align with your real desires.
Breath of Life with Sri Dharma Mittra
The four classes in this series will teach you the fundamentals of yogic breathing, a practice that, by drawing more oxygen into the body, allows us to regulate our heartbeat and slow our train of thought so that we can be calmer and more focused.
14-Day Meditation Habit with Jackie Sterwart
This two-week, 15-class program is ideal for beginners looking to get themselves in the meditation habit. The classes will move you from short to progressively longer meditation sessions, so that you can learn how to incorporate mindfulness practice into your everyday routine.
Chakra Sound Bath with Phyllicia Bonanno
Sound bath meditations envelop you with ambient sound to help guide you deeper into your meditation. These seven classes will guide you through restorative and stress-reducing meditation sessions that target each of the seven essential chakras (crown, third eye, throat, heart, solar plexus, sacral, and root).
Other offerings under the Mindfulness Series banner include courses focused on breathwork (Power of Breath), creativity (Brain Food), and tension release (The Method: Relaxation).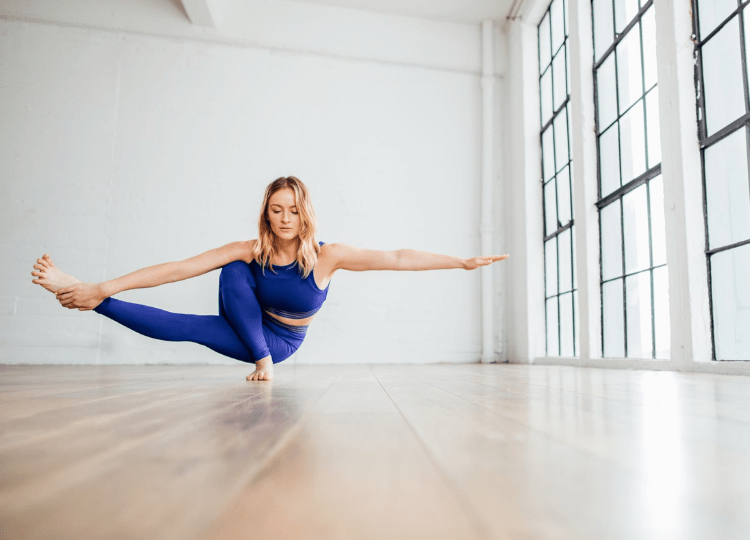 The Skills Series focuses on specific techniques that will help you develop full-body fitness. Courses include:
Discover Your Splits with Kayla Nielsen
Worried that attempting the splits would quite literally split you right down the middle, Mortal Kombat-style? This 14-class course will take you through a series of hip-opening and -strengthening exercises that will not only coach your body toward a full split, but also connect you with your emotions through journaling.
Mobility RX with Dylan Werner
Concentrating on strength in your training at the expense of flexibility is a recipe for future injuries. The Alo Moves Mobility RX course gives you 10 workouts, roughly 15 minutes each, that focus on mobility and motion in order to create more balanced, full-body strength.
Whether it's the reluctant determination of the casual exerciser or the grim focus of the devotee, fitness is so often regarded as such serious business that we forget the fun. This five-class series aims to help you unleash your creativity and explore new forms of movement that will lighten the spirit, and maybe even shake loose a laugh.
True Flexibility with Dylan Werner
Raise your hand if you tend to sneak away during the cool-down stretching segment of your group workout (guilty). The five classes in this series use a variety of stretching techniques, as well as meditation sessions, to connect you more deeply to your body and unlock muscular strength that you never knew you had.
The Skills Series also features many other Alo Moves flexibility classes, as well as courses like the self-explanatory Learn to Handstand and Deepen Your Backbends and training programs designed for practicing yoga teachers, like Art of Assists.
With over 2,500 classes available in four major categories, there is sure to be an Alo Moves course that will match both your fitness level and your area of interest. There is no extra content to unlock through special fees, just full, any-time access to the whole Alo Moves video library.