HexClad, the American cookware manufacturer, serves a diverse clientele, from seasoned professional chefs to aspiring home cooks. Their product collection aims to revolutionize the common issue of having to frequently replace cookware that's worn out from frequent scraping and damage.
Prominent news outlets like Forbes, CNN, People Magazine, NBC News, Buzzfeed, and others have praised HexClad cookware, recognizing its outstanding quality. Furthermore, esteemed platforms such as Oprah's Favorite Things, Good Housekeeping, and Yahoo have showcased the brand, confirming its widespread acclaim and popularity. The company's significant following of 78,000 users on Instagram is a clear indicator of its prominence in the industry.
Although it's tempting to place all your trust in the esteemed Oprah's endorsement, it's wise to seek a second opinion. To help you make an informed decision about whether HexClad's cookware collection suits your needs, our in-depth HexClad Cookware Review will provide you with valuable insights into the company, its range of products, ongoing promotions, and other relevant information.
In 2017, two ambitious individuals, Danny Winer and Cole Mecray, set out on a mission to introduce and promote their cookware collection infused with the groundbreaking HexClad technology within the United States. Their main goal was to produce and provide long-lasting, sturdy pots and pans that could endure the trials of time.
As per Danny Winer, who currently holds the position of President and CEO at HexClad, the company's cookware distinguishes itself from competitors through several noteworthy attributes. One of these standout features is the integration of a distinctive hexagonal pattern, forming a network of peaks and valleys on the cooking surface. This unique design element not only sets their cookware apart but also plays a crucial role in enhancing its exceptional performance.
HexClad's cookware is renowned for its versatility, making it well-suited for a broad spectrum of culinary tasks. This versatility can be primarily attributed to the construction of the cooking surface, where the peaks are meticulously crafted from durable stainless steel, while the valleys are coated with a non-stick material. This innovative combination guarantees that the cookware can endure the use of metal utensils without incurring damage, addressing a common concern associated with traditional non-stick pans.
HexClad's headquarters are located in the dynamic city of Los Angeles, while their cookware products are manufactured in Asia. In our upcoming HexClad Cookware Review, we will conduct an in-depth assessment of the brand, covering both its strengths and weaknesses. Through this comprehensive analysis, our goal is to furnish you with the essential insights needed to make a well-informed decision regarding the HexClad cookware line.
HexClad's nonstick cookware is highly endorsed by culinary professionals for its remarkable durability, capable of withstanding the use of metal utensils, thus making it versatile for various cooking needs. Moreover, its dishwasher and oven compatibility enhance kitchen convenience and flexibility. HexClad cookware is renowned for its exceptional longevity, ensuring it endures over time.
An outstanding benefit is the complete absence of PFOA in all HexClad stainless steel cookware, prioritizing safety and health-conscious cooking practices. For Canadian customers, HexClad cookware is readily available at Costco. In terms of financing options, HexClad offers flexibility through alternative forms of financing.
To provide additional peace of mind, customers have the option to request a lifetime warranty for their HexClad cookware. Furthermore, for customers residing within the United States, HexClad provides complimentary shipping, further augmenting the overall value and convenience of purchasing HexClad products
It's worth mentioning that free delivery is not extended to customers residing in Alaska and Hawaii. Regrettably, the HexClad website does not presently provide international shipping options, which restricts accessibility for customers located outside of the United States. These factors should be taken into account when evaluating the purchasing and delivery options for HexClad cookware.
The increasing popularity of non-stick cookware can be attributed to its capacity to accelerate cooking processes and streamline cleanup. Within our thorough HexClad Cookware Review, we will meticulously assess the brand's top-selling pans, woks, and sets, which cater to both home-cooked meals and professional culinary endeavors. Through this in-depth analysis, our objective is to aid you in making a well-informed choice regarding the HexClad cookware selections that align best with your culinary requirements.
HexClad's hybrid cookware seamlessly integrates the most favorable elements of traditional non-stick cookware with an elegant and modern design featuring black and silver stainless steel. What truly distinguishes this brand is its state-of-the-art technology, which is not only innovative but also highly advanced.
In contrast to its rivals, HexClad cookware is engineered to withstand the wear and tear inflicted by metal utensils and can be confidently placed in the dishwasher for easy cleaning. This exceptional design attribute guarantees that your kitchen remains neat and orderly, as the technology encompasses both the interior and exterior of the cookware, delivering a seamless cooking and cleaning experience.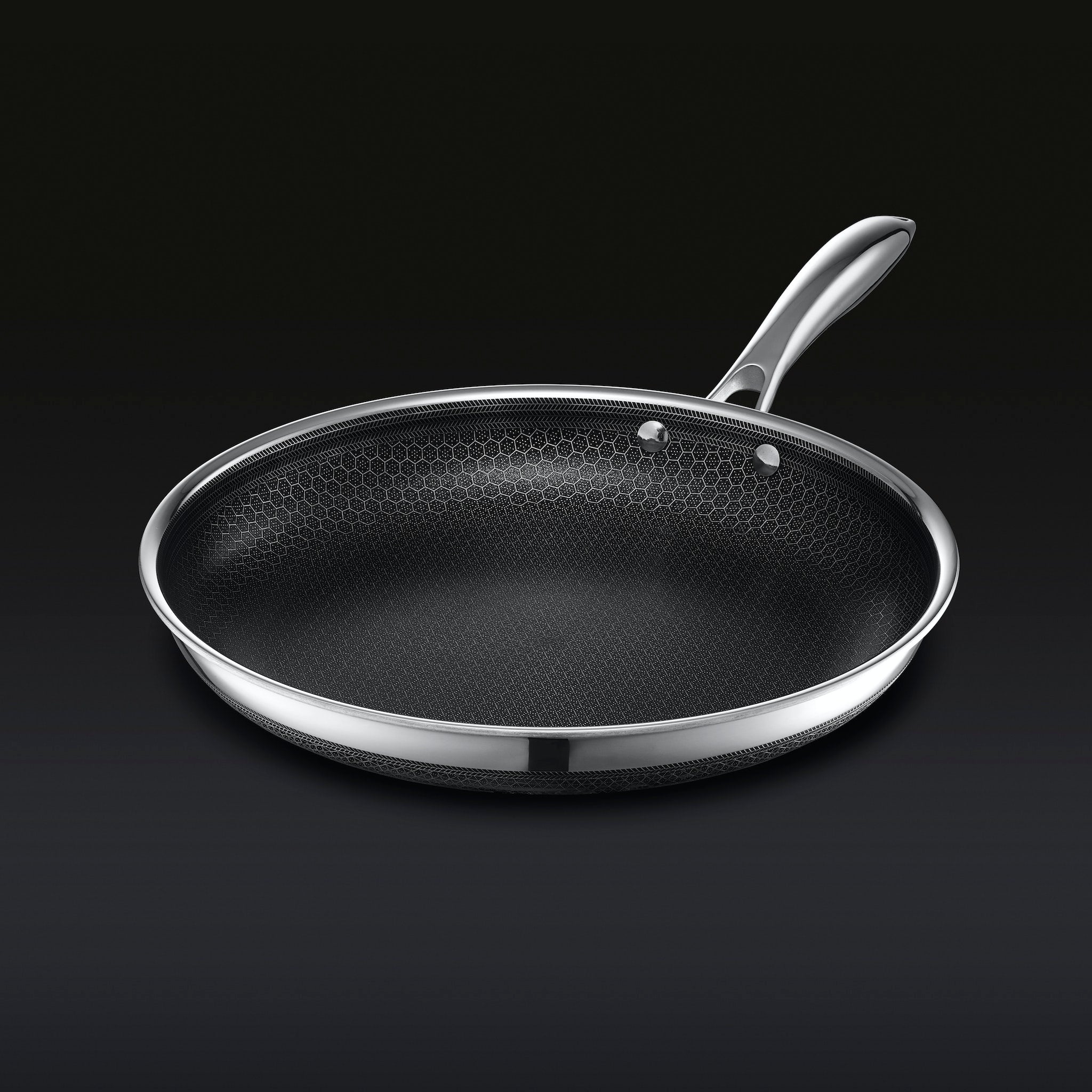 In our comprehensive HexClad Cookware Review, we kick things off by taking a closer look at the incredibly versatile 12″ Hybrid Pan. This pan is ideally suited for preparing multiple dishes at once, making it a superb option for family meals. As per the brand's claim, it can effortlessly handle multiple steaks, fish fillets, and a side of vegetables, providing ample cooking space to work with.
HexClad's 12″ Hybrid Pan stands out as an excellent choice for novice kitchens thanks to its remarkable versatility. It is compatible with a wide range of stovetops, including electric, gas, ceramic, and induction, ensuring it can adapt to various cooking environments. The tri-ply design featured in HexClad cookware not only makes cleaning a breeze but also guarantees even heat distribution, thereby enhancing the overall cooking experience.
With its distinctive hexagonal shape, the 12″ Hybrid Pan has nonstick valleys and stainless steel peaks, a well-thought-out design that enables precise sautéing of vegetables and the perfect searing of salmon fillets, ultimately achieving culinary excellence. This pan truly opens up limitless cooking possibilities.
Furthermore, this pan is oven-safe up to 500 degrees Fahrenheit, allowing for rapid one-pan cooking and gentle broiling for your culinary creations. Although it boasts non-stick and scratch-resistant properties, it's recommended to refrain from using metal utensils with this cookware to preserve its longevity.
When it comes to durability and functionality, the 12″ HexClad stainless steel pan outperforms a typical metal spatula. Presently, this premium pan is available at a discounted price of $130, offering outstanding value considering its exceptional features.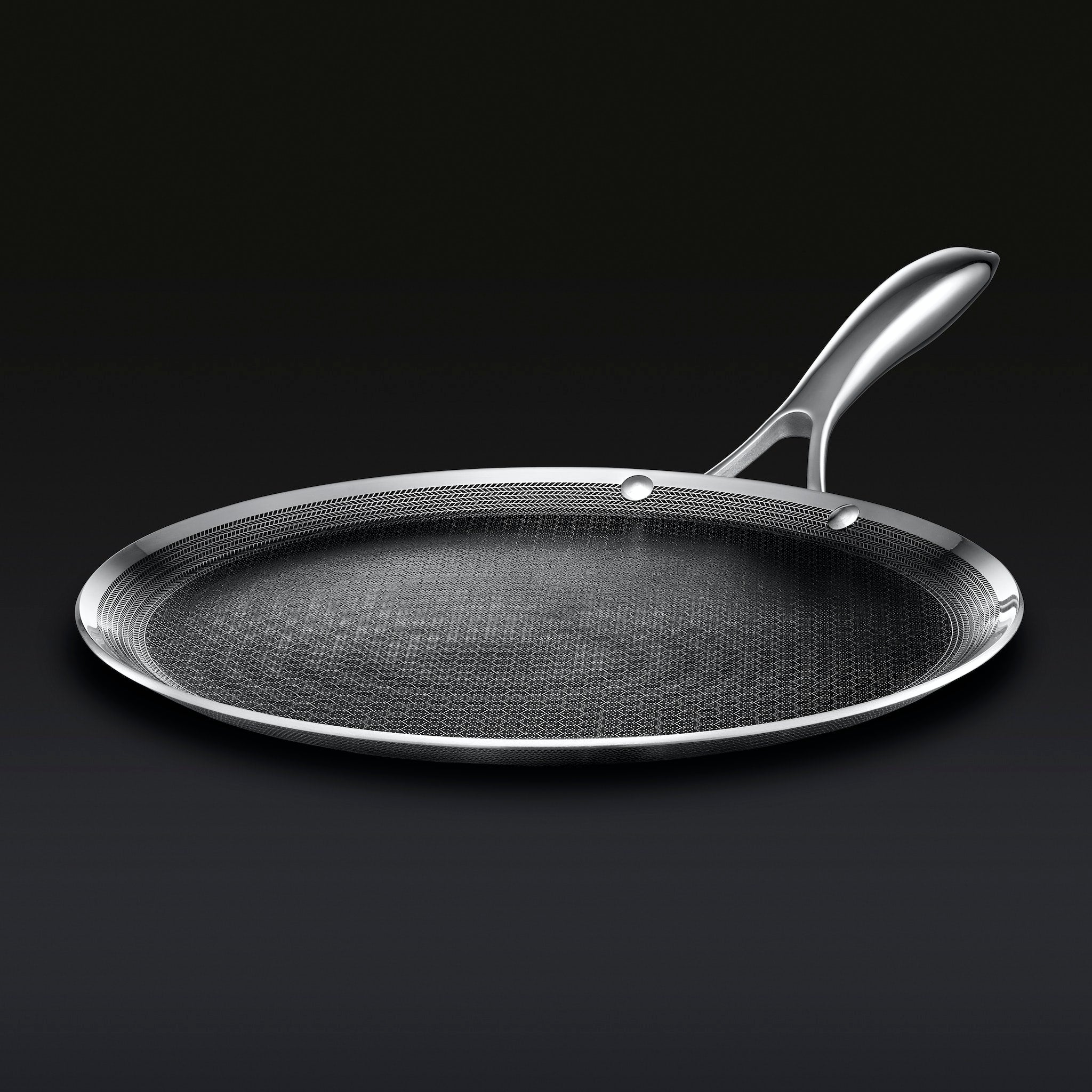 For individuals in search of comfort meals prepared to perfection, the 12″ Hybrid Griddle Pan, with its impeccably flat surface, proves to be an ideal choice. This versatile pan performs flawlessly on all types of stovetops and shares the same impressive non-stick qualities as the other products highlighted in this HexClad Cookware Review.
The HexClad Griddle Pan is an excellent choice for preparing a diverse array of delicious dishes, including pancakes, eggs, bacon, and crepes. Although it might be tempting to use substantial amounts of butter or oil for breakfast recipes, the non-stick quality of this pan guarantees that you can achieve exceptional results with minimal grease.
Furthermore, the stay-cool handles of the Griddle Pan offer an extra layer of safety, guarding against accidental burns while flipping pancakes or managing the pan with expertise. Whether you're heating up crispy tortillas for a taco night or delighting in the crafting of sweet or savory crepes for dessert, this versatile pan is up to the task for all your culinary endeavors.
It's important to note that the $150 HexClad stainless steel skillet is presently unavailable, even though it is usually in stock.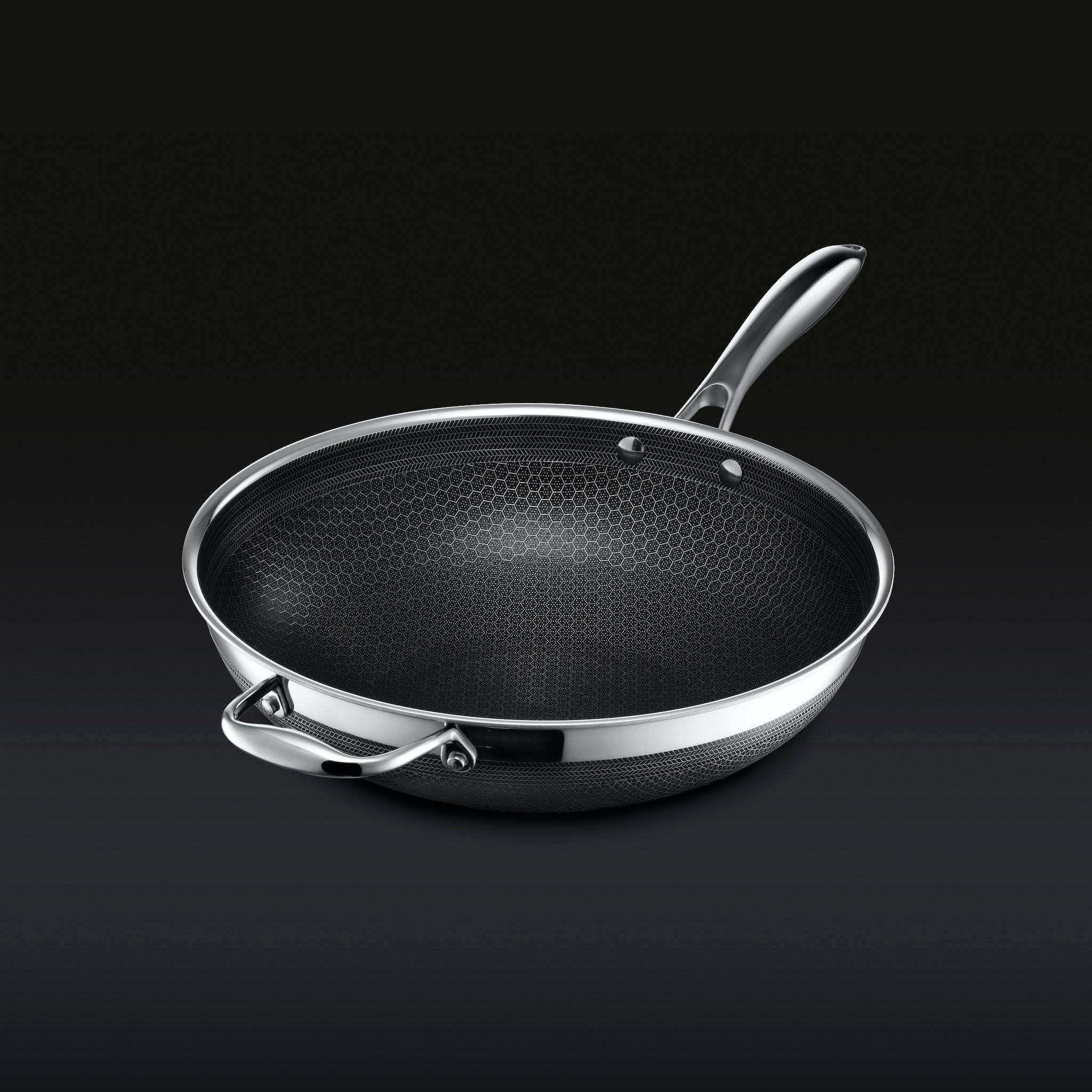 If you're looking for a convenient and speedy stir-fry experience, the next item in our HexClad Cookware Review will be a valuable addition. The 12″ Hybrid Wok is not limited to stir-fries alone; it's equally adept at preparing dishes such as pad Thai, sauces, spaghetti, and more. Its generous depth accommodates cooking large quantities with ease.
The deep design of this HexClad all-clad wok offers excellent protection against spills during the heating process. You can confidently toss ingredients without concerns about rice or noodles scattering all over. Thanks to its flared shape, it's also versatile enough for deep-frying, making it an excellent choice for adventurous cooks. Have you ever considered making churros?
Cleaning up after using this wok is a breeze. The non-stick technology eliminates the need for pre-rinsing at the end of the day, as it seamlessly collaborates with your dishwasher to eradicate any lingering residue. However, you might discover that cleaning the 12″ Hybrid Wok is so effortless that you may not even require running it through the dishwasher.
The standard price for the 12″ Hybrid Wok is $180, but it is currently available on sale for just $99, offering outstanding value for a versatile and high-quality wok.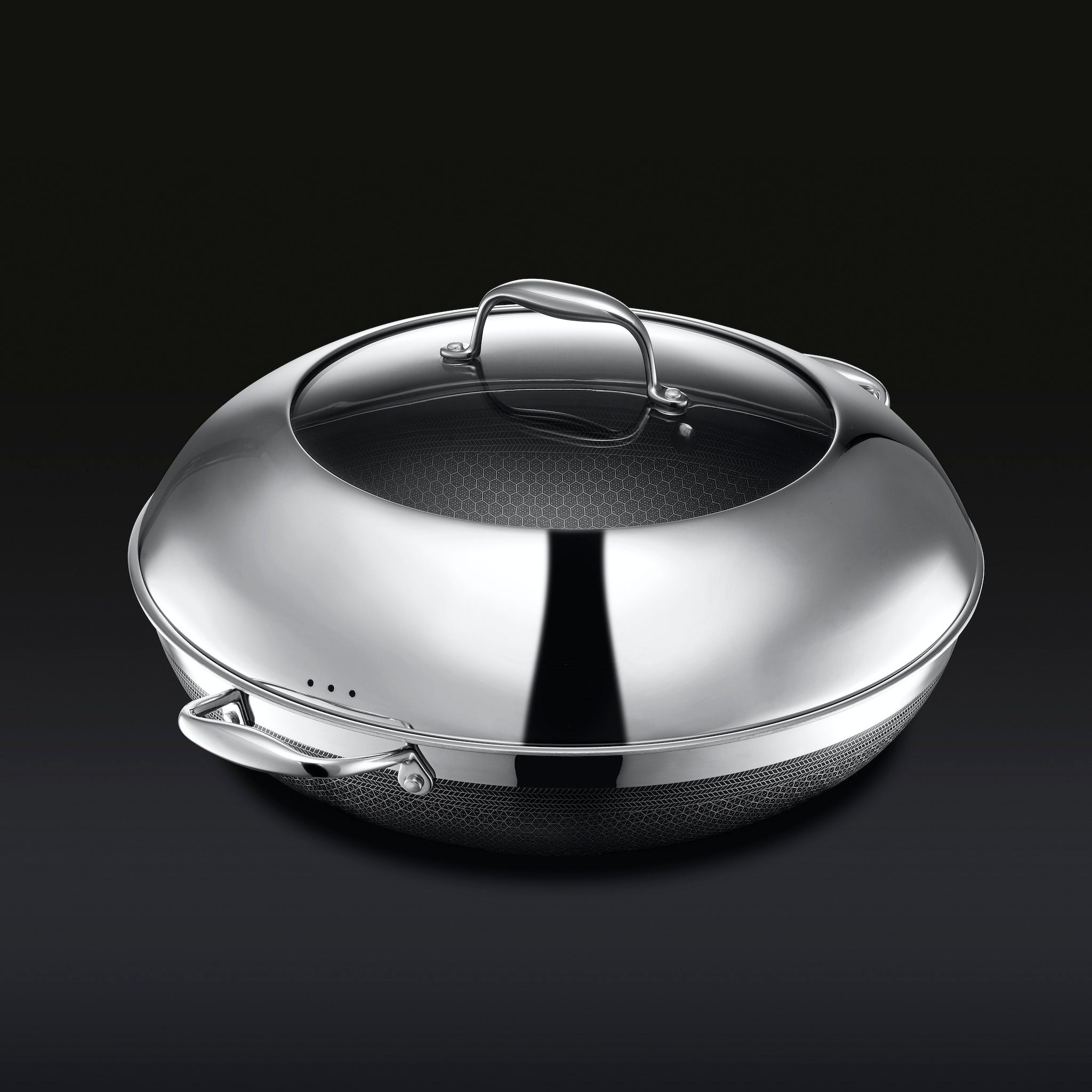 In our ongoing HexClad Cookware Review, we are now introducing the 14″ Hybrid Wok with Lid. This versatile cookware item streamlines the task of boiling a substantial quantity of pasta at elevated temperatures. As the name implies, it includes a lid, which further enhances its functionality.
With the HexClad 14″ Wok with Glass Cover, you can elevate your hosting abilities and exhibit your culinary expertise at your next gathering. This wok is ideal for group dinners and has the potential to deliver restaurant-quality dishes that will leave a lasting impression on your loved ones.
Harnessing the same hybrid technology as the other pans, the HexClad Wok with Lid proves to be a valuable culinary companion, offering efficient cooking performance. Furthermore, maintaining the cleanliness of this wok is as effortless as it is with its counterparts.
The standard price for the 14″ Hybrid Wok with Lid is $229, but it is presently offered at a reduced price of $199, presenting excellent value for a versatile and high-quality wok.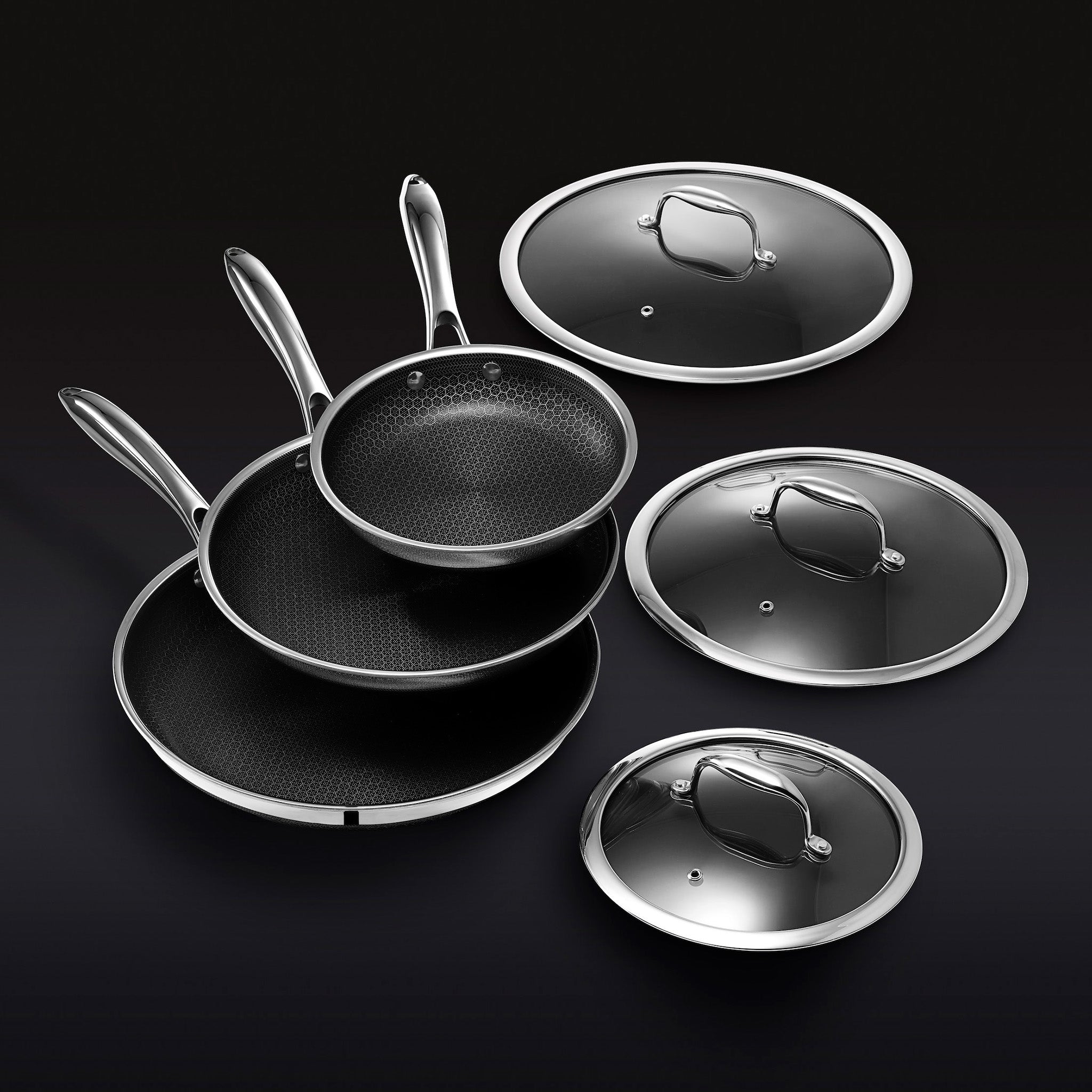 Allow us to introduce the HexClad 7pc Hybrid Cookware Set with Lids and Wok, now ready for purchase. These indispensable kitchen tools are crafted to endure the demands of gourmet cuisine and professional-level cooking. The set comprises the following items, tailored for those who are committed to refining their culinary expertise:
12″ HexClad Hybrid Pan
12″ HexClad Cooking Lid
10″ HexClad Hybrid Pan
10″ HexClad Cooking Lid
8″ HexClad Cooking Lid
8″ HexClad Hybrid Pan
Thanks to their user-friendly coatings and effective heat distribution, these nonstick HexClad pots and pans uphold the brand's renowned quality. This cookware set acts as an outstanding starting point for aspiring chefs and represents a valuable addition to the culinary arsenal of seasoned cooks.
Cooking and serving delightful meals to your loved ones not only nourishes them physically but also nurtures meaningful relationships and forges enduring memories. Investing in top-notch cookware like this set not only elevates your cooking journey but also streamlines the act of preparing food alongside friends and family, fostering cherished moments together.
The standard price for the 7-piece hybrid cookware set with lids and wok is $594.99, but it is presently being offered at a sale price of $399.99, presenting exceptional value for a comprehensive and versatile cookware collection.
While the CEO of HexClad has expressed confidence in their cookware's ability to last for 20 to 30 years, it's essential to recognize that HexClad is a relatively new company, having only begun selling pans in 2017. Consequently, accurately predicting the longevity of their products and how well they will maintain performance over time can be challenging.
The longevity of cookware is also significantly influenced by proper maintenance. Generally, non-stick surfaces tend to deteriorate when regularly exposed to abrasive sponges or dishwasher cleaning. Therefore, taking care of your cookware through gentle cleaning methods and following care instructions can extend its lifespan.
Fortunately, HexClad cookware is designed to be dishwasher-safe. However, it is advisable to adhere to the brand's recommended care procedures, which encompass the following guidelines:
When you receive your HexClad pan, initiate by washing it in warm, soapy water before its initial use.
Set the HexClad pan over low heat and perform seasoning by applying a small quantity of oil using a paper towel. Allow it to warm up for a minute or two.
If you're prepared to commence cooking, proceed by adding your ingredients to the pan. If not, let the pan cool before initiating the washing process again
By following these care instructions diligently, you can help maintain optimal performance and extend the longevity of your HexClad cookware.
What Is The HexClad's Coating Made Of?
The unique hexagonal pattern on HexClad pans is achieved through a "laser engraving" process. The stainless steel surface of the pans is then coated with a Japanese ceramic non-stick coating. To enhance its performance, this protective coating incorporates diamond dust, providing advantages like enhanced food searing, consistent heat distribution, and increased overall durability.
The fusion of the laser-engraved hexagonal pattern, Japanese ceramic non-stick coating, and the incorporation of diamond dust within the protective coating collectively contributes to the outstanding cooking performance and extended durability of HexClad pans.
Does HexClad Include PFOA?
For those who might not be familiar with the term, PFOA stands for perfluorooctanoic acid, which is frequently employed in the manufacturing of non-stick cookware. This substance can also be present in a range of other items, including water-repellent clothing and stain-resistant carpets, among others. PFOA is recognized for its capacity to extend the longevity of these products.
It's crucial to highlight that research has identified a link between this chemical and health issues like thyroid disorders and kidney cancer, especially when individuals are exposed to elevated levels of it. Thankfully, HexClad takes pride in being PFOA-free, signifying that their cookware is produced without the inclusion of this potentially harmful substance. This commitment to safety and health is a notable aspect of their product offering.
As a part of our HexClad Cookware Review, we have considered the feedback from customers who have bought and utilized HexClad cookware. Given the considerable media recognition that the brand has garnered, it's apparent that HexClad enjoys a positive reputation among many consumers.
HexClad has established a reputation for providing dependable and high-quality products, as evidenced by over 4,000 verifiable positive ratings on their official website. It appears that a significant portion of their cookware set buyers are home chefs seeking to enhance their culinary endeavors. This strong customer endorsement underscores the brand's commitment to meeting the needs and expectations of their user base.
A specific customer review highlighting the 7-piece hybrid cookware set with lids and wok expresses, "These pans are so wonderful to cook with, they are non-stick and so easy to clean, easy to season, etc. Highly recommend." With an impressive average rating of 5 stars out of 5 based on 803 reviews, it's evident that customers hold great enthusiasm for the brand and are particularly satisfied with this specific set. Such positive feedback underscores the excellence of HexClad's products.
The 12″ Hybrid Griddle Pan received commendation from another customer review, with the reviewer stating, "The day I got it, I seasoned it and used it within an hour of getting it. The larger space means I can cook enough steaks for 3 people at a time. The pan heats evenly and hubby says it cleans up easily. I have recommended these pans to anyone and everyone. My son even bought a set after I told him about mine." This positive feedback highlights the versatility and satisfaction that customers derive from using HexClad cookware, which often leads to word-of-mouth recommendations and additional purchases.
Additionally, HexClad cookware garners positive ratings on independent websites as well. On Amazon, the 12″ Hybrid Pan maintains a rating of 4.3 out of 5 based on 138 reviews. A customer, who also happens to be a professional chef, enthusiastically praised its exceptional performance, declaring, "This pan is unbelievable, I am a professional chef and I can't believe its performance. It is wonderful!" Such acclaim from a professional chef underscores the quality and capabilities of HexClad cookware.
In summary, customer reviews consistently convey a high level of satisfaction with HexClad cookware, commending its cooking performance, user-friendliness, and durability. These positive testimonials underscore the brand's commitment to delivering quality products that meet the needs and expectations of home chefs and culinary enthusiasts alike.
Based on our comprehensive evaluation of HexClad cookware, it is apparent that their products come highly recommended and are certainly worth considering for purchase. When compared to competitors, HexClad provides reasonably priced, professional-grade, high-end cookware, making it an attractive choice for those seeking quality and performance in their kitchen tools.
A standout benefit of HexClad cookware is its capacity to minimize messes during cooking, thereby enhancing the overall cooking experience with added convenience. The cookware is designed to be user-friendly, ensuring effortless handling and cooking processes. Additionally, the fact that HexClad cookware is dishwasher-safe further contributes to its overall convenience and ease of cleaning, making it a practical choice for many home chefs.
Another noteworthy positive aspect is the recognition and acclaim that HexClad cookware has garnered from the media. This acknowledgment further underscores the quality and performance of HexClad's products, adding to its credibility and appeal among consumers.
Considering all of these factors, HexClad cookware emerges as a dependable choice that successfully merges functionality, affordability, and an abundance of positive reviews. This combination makes it a worthwhile investment for cooking enthusiasts seeking quality and convenience in their culinary tools.
Where Is HexClad Produced?
HexClad cookware is conceived and designed in Los Angeles, California, where their creative and engineering teams collaborate to develop and refine the cookware designs. Once the designs are perfected, the manufacturing of HexClad cookware takes place in Asia. This strategic approach allows for efficient production and enables HexClad to distribute their innovative cookware to customers around the world.
Is HexClad Cookware Safe?
You're welcome, and thank you for the clarification. Indeed, HexClad cookware does not contain PFOA, but it does utilize PTFE (Polytetrafluoroethylene), which is a commonly used material in non-stick coatings. If you have any more questions or need further information, feel free to ask!
PTFE, which stands for polytetrafluoroethylene, is regarded as a safe material for cookware and finds extensive use in various non-stick kitchen products like pots and pans as well as cooking utensils. Its reputation is built on its impressive non-stick qualities and its ability to withstand high temperatures. Interestingly, PTFE's attributes extend beyond the kitchen; it also serves essential roles in medical fields, such as being used for dental implants and heart stents, thanks to its biocompatibility and long-lasting durability.
It's crucial to emphasize that when non-stick cookware with PTFE-based coatings is employed in typical cooking scenarios, it does not present any health hazards. Nevertheless, it is advisable to adhere to the manufacturer's guidelines for the proper use and maintenance of such cookware to guarantee its durability and safety.
HexClad provides complimentary delivery services within the contiguous United States, excluding Hawaii and Alaska. Regrettably, international shipping options are not presently offered. Nonetheless, customers in Canada can access the HexClad Costco product line.
For deliveries within the United States, you can generally expect your order to arrive within an estimated timeframe of 5 to 10 business days. During the checkout process, you will receive more precise delivery estimations tailored to your specific location and order.
HexClad extends a 30-day window for returns and refunds. It's important to note that the buyer is responsible for the expenses associated with returning the item, and they should also furnish the required purchase documentation for the return process.
To commence the return procedure, we strongly advise reaching out to HexClad's customer support. Following the company's assessment and approval of the return, refunds will be processed, and you can anticipate seeing the funds credited back to the original payment method within a timeframe of 7 to 10 days.
To ensure a seamless and efficient return process, it's crucial to adhere to the designated return timeframe and carefully follow the instructions provided by HexClad's customer support team. This will help facilitate the return and ensure a hassle-free experience.